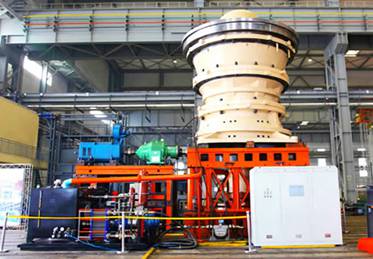 Gyratory Crusher
Gyratory crusher is large crushing machine for primary crushing of all kinds of ore or rock, and it uses the gyration of crushing cone in conical cavity, to extrude, split and bend materials.
E-mail:market@sinoftm.com
Inquiry Us
Now Online
Introduction
Gyratory crusher also can be called gyratory breaker and gyratory crushing machine. Gyratory crusher is large crushing machine for primary crushing of all kinds of ore or rock. The upper end of main spindle with crushing cone is installed in the middle of the bush, and its lower end is placed in the hole of eccentric sleeve. When the sleeve rotates, crushing cone does rotating movement around the machine centerline, and its crushing action is carried out continuously, so the working efficiency of gyratory breaker is higher than that of jaw crusher. By the early 70s, the processing capacity of large gyratory crushing machine was up to 5,000 t/h, and the maximum feeding diameter was 2,000 mm.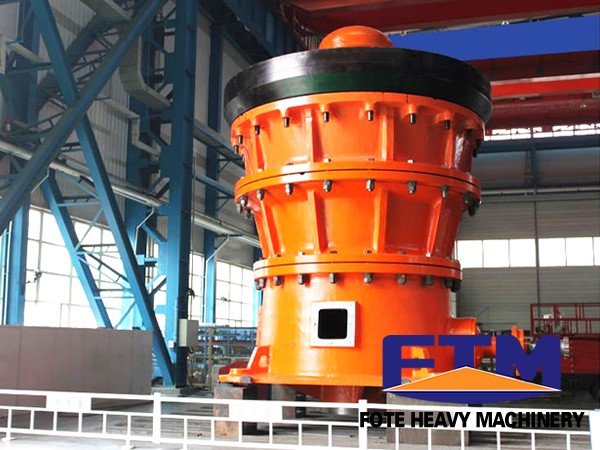 Features
① Non-clogging type crushing chamber, fluid discharging. The clogging-point is moved up after the optimization design of the crushing chamber, which improves the ore passing ability in unit time, reduces lining wear, increases service life, and saves energy.
② Reasonable eccentric bearings. The eccentric bearing of the gyratory crusher is made of high lead bronze, so it's suitable for low speed and heavy load, and can improve the life of eccentric. Meanwhile, replacing the inner bushing can adjust the eccentricity of the gyratory crusher, to make it conform to production needs.
③ Reasonable gear installation. The eccentric gear of the machine is installed at the lower place, which provides gear good lubrication conditions, and extends service life of gears. On the other hand, the reasonable gear installation can reduce the height of rack, increase the stability of the crusher, and reduce its overall weight.
④ Direct transmission. Domestic crushers are indirect transmission, the motor drives the eccentric sleeve through the belt pulley.
Parameter
Parameters of PXZ series
Model
Size of feeding mouth
(mm)
Size of discharging mouth
(mm)
Max. feeding size
(mm)
Adjusting range of discharing mouth
(mm)
Bottom diameter of crushing cone
(mm)
Main motor
Specification of lubricating drill
Consumption of cooling water
(m³/h)
Output
(t/h)
Model
Power(KW)
Rotating speed(r/min)
Voltage(V)
PXZ0506
500
60
420
60-75
1200
JR128-10
130
585
380
40
3
140-170
PXZ0710
700
100
580
100-130
1400
JR136-8
145
730
3000
40
3
310-400
PXZ0909
900
90
750
90-120
1650
JR137-8
210
735
380
63
3
380-510
PXZ0913
900
130
750
130-160
1650
JR137-8
210
735
380
63
3
625-770
PXZ0917
900
170
750
170-190
1650
JR137-8
210
735
380
63
3
815-910
PXZ1216
1200
160
1000
160-190
2000
JRQ158-10
310
590
6000
125
3
1250-1480
PXZ1221
1200
210
1000
210-230
2000
JRQ158-10
310
590
6000
125
3
1560-1720
PXZ1417
1400
170
1200
170-200
2200
JRQ1510-10
430
590
3000
125
3
1750-2060
PXZ1422
1400
220
1200
210-230
2200
JRQ1510-10
430
590
3000
125
3
2160-2370
PXZ1618
1600
180
1350
180-210
2500
JRQ158-10
310
590
6000
125
3
2400-2800
PXZ1623
1600
230
1350
210-240
2500
JRQ158-10
310
590
6000
125
3
2800-3200
Parameters of PXQ series
Model
Size of feeding mouth
(mm)
Size of discharging mouth
(mm)
Max. feeding size
(mm)
Adjusting range of discharing mouth
(mm)
Bottom diameter of crushing cone
(mm)
Main motor
Specification of lubricating drill
Consumption of cooling water
(m³/h)
Output
(t/h)
Model
Power (KW)
Rotating speed (r/min)
Voltage (V)
PXQ0710
700
100
580
100-120
1200
JR128-10
130
585
380
40
3
200-240
PXQ0913
900
130
750
130-150
1400
JR136-8
145
730
3000
40
3
350-400
PXQ1215
1200
150
1000
150-170
1650
JR137-8
210
735
380
63
6
720-815
Parameters of PXF series
Model
Size of feeding mouth
(mm)
Size of discharging mouth
(mm)
Max. feeding size
(mm)
Bottom diameter of crushing cone
(mm)
Main motor
Specification of lubricating drill
Consumption of cooling water
(m³/h)
Output
(t/h)
Model
Power (KW)
Rotating speed (r/min)
Voltage (V)
PXF5474
1372
152
1150
1880
YR400-12/1180
400
490
6000
250
22.5
1740
PXF5484
1372
203
1150
2134
YR500-12/1180
500
490
6000
250
22.5
2500
PFX6089
1524
178
1300
2260
YR118/46-12
500
490
6000
400
39.5
3000
PXF60110
1524
178
1300
2784
YR500/12
355×2
490
6000
400
39.5
4000
PXF7293
1829
178
1550
2362
YR500-20/1730
500
295
6000
400
39.5
2620